Have you ever had someone on your list and you just couldn't figure out the direction you wanted to go for their gift? Sometimes, it's hard to imagine what they'd like - especially if you're not that close. We've put together some of our favorite gifts for the stoners. Each of these were hand picked for your recipient in mind. Each of these is sure to make your receiver feel extra special this year. On the other hand, if you're a stoner and can't figure out what to ask for this year, send this link over to your loved ones. We'd love to help them out - and you too! 
Head to Denver, CO or various other places around the United States for a Dispensary Tour. Each dispensary has various options when touring. However, if you book with My 420 Tours, you can choose a Sushi & Joint Rolling class. So, you learn how to hand roll a quality joint packed with the strain of your choice. Then, you'll head into a different class to learn how to roll sushi. However, you get a brief intermission between the two to head outside and puff in the smoking area before rolling sushi. This is a super unique experience and will leave a lasting impression on your gift recipient. 
The classes sell out quickly so make sure you book as soon as possible to reserve your spots.
      2. Peace of Stage Rolling Trays
The Wooden Rolling Trays with Piece of 1969 Original Woodstock Stage are the perfect present to wrap up this year for the stoner on your list. Each rolling tray includes an embedded piece of the original 1969 Woodstock stage. Plus, you get your choice of cool engraving to spice up your smoking experience. They come in two different designs, either a Guitar Pick or Rectangle. Each tray is handmade with cherry wood. 
Each time they pull out this rolling tray, they'll be reminded of the year that someone got them a gift they never knew they needed, but wanted anyway. It's truly a special gift that you get to customize and personalize for each person on your list this year.  
     3.
Stoner Clogs with Hemp Leaves
Hopefully you know your recipient well enough to know their shoe size. If not, definitely steer clear of this gift. If you're looking for an easy highly-loved gift, check out these hemp leaf printed clogs. They're comfortable and come with free shipping so you don't even have to leave home. That's the best! These shoes are sure to be a favorite especially if you have a younger audience on your list. Plus, they'll think you're super cool and in the "know." 
Additionally, this gift will keep on giving. They can customize each of the empty spaces in the holes with custom charms that they choose. They're lightweight, fun, and the perfect gift to give this year.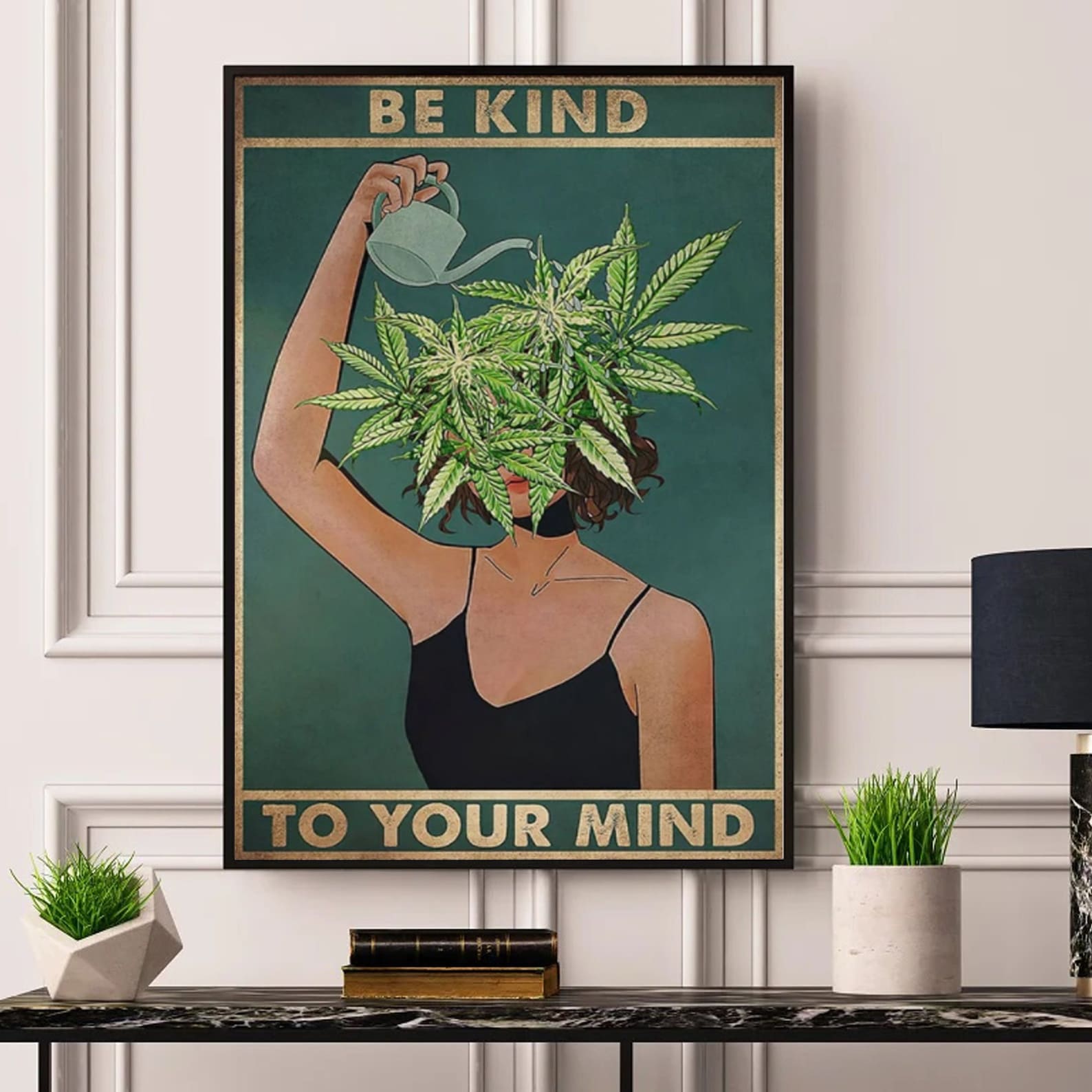 Sometimes it's hard to find the perfect gift for everyone. You overthink, analyze, and predict how the gift will make them feel. Or if they'll even like it all. We've found that an easy super-loved gift to give is wall art and canvases. Most people like to fill their space with things that make them happy. Usually, there's a direct correlation in someone's hobbies and their decor. 
Therefore, we picked out this super unique canvas that you can add-to-cart this season. It says "Be Kind To Your Mind" and features a unique image. This print will be a focal point of any room it enhances.

Enhance your smoking experience to feel at true peace with this Unique Peace of Stage Peace Pipe crafted with a piece of Original 1969 Woodstock Stage. This distinctive pipe features a laser-engraved peace sign image. The perfect gift for your favorite stoner, they'll smile in gleam when they unwrap this one-of-a-kind gift. Make sure you wrap this pipe complete with the Certificate of Authenticity you'll receive in the package. 
This gift will definitely stand out and leave a remarkable impression on your recipient. We find it difficult to find anything special these days. However, this pipe speaks for itself with it's design. 
To conclude,
As we stated above, we went and hand-picked each of these for the stoner in your life, so you didn't have to. The holidays should be full of joy and laughter. We hope that this gift guide helped cross someone off your list! 
If you purchase any of these gifts for someone on your list this year, let us know below. We'd love to hear how they loved their gift.