Welcome to Peace of Stage
Each Stage Collectible includes an authenticated piece of the historic 1969 Woodstock Music & Art Fair stage. Our limited edition Peace of Stage Collection features the Peace Pendant, 50th Anniversary Acrylic Frame, and our New Treehugger Stage Frames among many other groovy items still to come. Every collectible includes Letters of Authenticity, and a tamper-proof numbered hologram, to ensure you have a real piece of the original Woodstock stage.
To learn more about Peace of Stage, check out the About Us section, as well as Media Coverage, which includes features from The New York Times, The Poughkeepsie Journal, and People.com, among many others! Our goal with Peace of Stage is not only to share this awesome Peace of music history with those who have the deepest connection to the festival, but also preserve pieces of the stage for the next generation. With donations to the Rock Hall, the Grammy museum, Bethel Woods Museum, and a few others in the works, we are so honored to be able to keep the Woodstock spirit alive for years to come. 
Explore The PEace of Stage Collection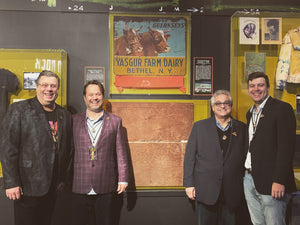 Rock Hall Stage Donation
A piece of the original 1969 Woodstock stage has found it's rightful home in the Rock and Roll Hall of Fame!
Learn More
Legends With Their Peace of Stage
THE STAGE. THE MAGIC. The story.
Peace, Love, & Las Vegas
Carlos Santana Signs Original Piece of the 1969 Woodstock of Stage! Peace of Stage Donates Signed Piece to the House of Blues Las Vegas to be displayed.