It's finally that time of year. You're getting down the holiday decor, putting lights on the house, and eating too much leftover turkey. However, you might've not started putting together your holiday gift list yet. The holiday season can be extremely overwhelming for numerous reasons. Therefore, we wanted to help take some of the pressure off. We got straight to work and assembled this stress-free gift guide for the Hippie Grandma in your life.
Most hippies enjoy peace, comfort, exploring and adventuring. The best way to do that is to explore the world. There are many hippie towns throughout the United States that you can book a weekend getaway trip for Grandma to go to. If you have a close relationship, grab yourself a ticket too and make it into a bonding trip. We all know that your grandma would love that. According to a quick Google search, Arcata, CA is the top place for hippies to go and visit. It's a calming place filled of other like-minded individuals that enjoy the serenity of the ocean waves crashing into the sand on the beach.
Best-Selling Peace Pendant with Piece of Woodstock Stage Wood 
The Peace Pendant gives your recipient the gift of always being able to be close to Woodstock. It's encased with pieces of the original and authenticated stage from the 1969 Woodstock Festival. You'll be able to choose between bronze or silver for your metal on your special gift. Plus, knock two people off your list with the Buy 1, Get 2nd for 50% off! Just add "PEACEBOGO" at checkout to receive your savings. This pendant is sure to be the topic of conversation each time it's worn. And, what a great conversation starter it is!
Do you need a present that explains it all? Look no further than this Old Hippies Don't Die, They Just Fade Into Crazy Grandparents Pillow. It'll definitely have your grandma laughing when she unwraps this thoughtful gift. It features bright pops of color - sure to brighten up any space. If you don't love the pillow, this website also features a variety of other selections for your grandma with this same hippie design.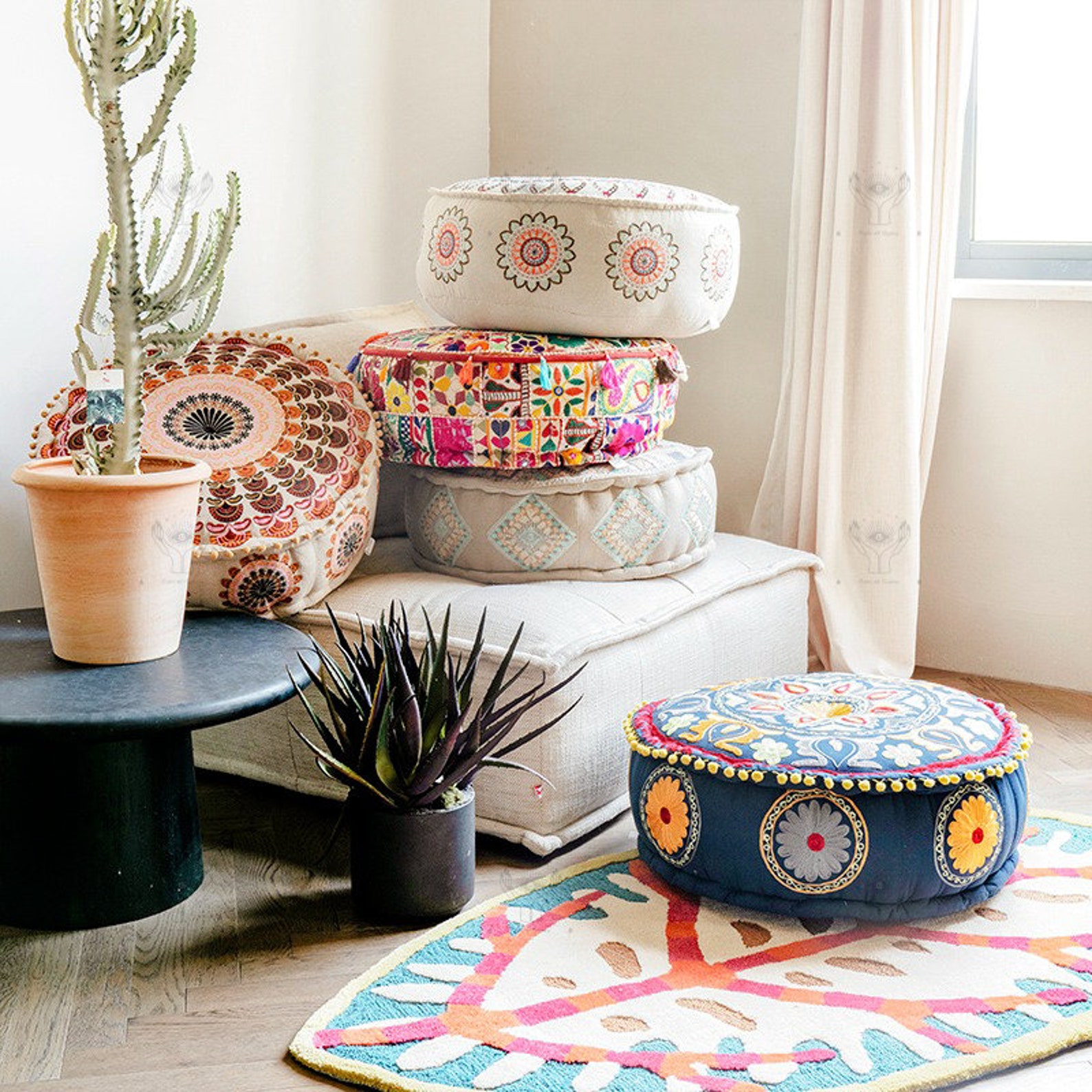 This handcrafted pouf is created using chambray cloth, a cotton plain-weave fabric. It has embroidery on the top and a zipper on the bottom for easy loading and unloading. This piece has been entirely hand sewn and embroidered. Your grandma can decorate her home with this heart-felt gift. It'll add elegance and warmth to her room and a reminder of who gave her the pouf.
Peace of Stage Cube with Piece of Woodstock Stage Wood
If you're looking to really make an impact this year, look no further than the Peace of Stage Cube crafted with an actual piece of the 1969 Woodstock stage where legends like Jimi, Janis, and Jerry performed. They'll get to actually own a piece of the stage from the most iconic music festival of all time. Measured at 9-square-inches, this gift is encased in a 3x3x3 acrylic cube for protection. It's important to note that this casing can be removed for displaying.

Each of these pieces comes with a Certificate of Authenticity and a commemorative plaque. You simply can't get much better than this piece for your Woodstock lover.

In Conclusion, 
As we stated above, we went and hand-picked each of these for the Hippie Grandma in your life, so you didn't have to. The holidays should be full of joy and laughter. We hope that this gift guide helped cross someone off your list!